Broken Spring Repair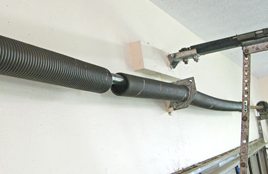 Garage door spring repair is definitely the most fragile job when it comes to garage door repair. The springs are under high amounts of tension as they are responsible for leverage and connections between different parts.
Caution! It's very important that if you don't know exactly what your doing with regard to broken spring repair that you higher a professional at BP Garage Doors to handle it for you. We want the opportunity to earn your business, but definitely not at the expense of your safety. If you have any doubts, please call us at 727-224-7599.
There are two types of garage door springs that you will find on your garage door. The first are extension springs which are on each side of the door. The Second are torsion springs, which are more dangerous and difficult to handle if you aren't properly trained. Torsion spring repair requires a professional 9/10 times so call us to have it taken care of.
It's usually pretty obvious if a spring is broken. First and foremost the garage door wont work, you might see a broken spring laying on the ground or in two pieces. Broken springs will need to be replaced and they are best replaced in twos. Many times if you observe that your garage door isn't working and the springs aren't broken, then there's a good chance that a cable might be broken or has come loose. Your best bet in any of broken spring replacement or torsion spring repair is going to be to call BP Garage Doors to have it fixed. We offer a $35 service call and are available 24/7. We even provide a discount to first time buyers as well as Senior and Military personnel.
Garage door broken spring repair is our specialty so call us today to have your spring fixed or replaced.