Garage Door Repair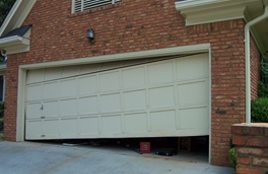 Your garage door is probably one of the most overlooked pieces of equipment in your home. Afterall, everything seems pretty simple right? It's working most of the time, but when it doesn't it can definitely be a big headache. Just like any other mechanical device in your home, it is important to keep your garage door maintained and adjusted so that it works properly without any issues. Most, if not all the tasks required for garage door repair maintenance should be left up to a professional since your garage door has such heavy moving parts and springs that are under enormous amounts of pressure.
Just as your heating or cooling systems gets checked annually, so should your garage door. Garage door repair isn't just for your driveway, it also protects your property including your vehicles and any other valuables you may have in your garage, but it also protects your family and keeps you safe. That is why its of paramount importance to have your garage door functioning correctly and efficiently. Garage door repair is what we're all about.
Here at BP Garage doors, it's our mission to make sure all of our local residents have a well functioning, safe and maintained garage door to provide safety and comfort.
As part of your monthly garage door maintenance we recommend you do the following :
Check out your garage door from the inside and examine all of the springs, rollers, hinges, cables and pulleys for signs of wear and tear or damage. These pieces are the foundation of your garage door and if they aren't kept functioning your garage door could not only cause damage to your home, but harm to you or your family as well. We highly recommend educating your children on the basics of the garage door so they can be safe while using it.
Garage Door Repair doesn't have to be a daunting task. We've made it our job to make sure that your garage door is working at its best and it'll be evident the first time hiring us!